Grow Yourself as an Earth Keeper, Grow yourself as you Truly Are. The Munay-Ki help you to remember and to live from who YOU really are.

This is a Weekend Intensive, a time to focus on deeply receiving all 9 Munay-Ki Rites and to learn and practice gifting them so that you will be able to gift them to your friends, family, or clients.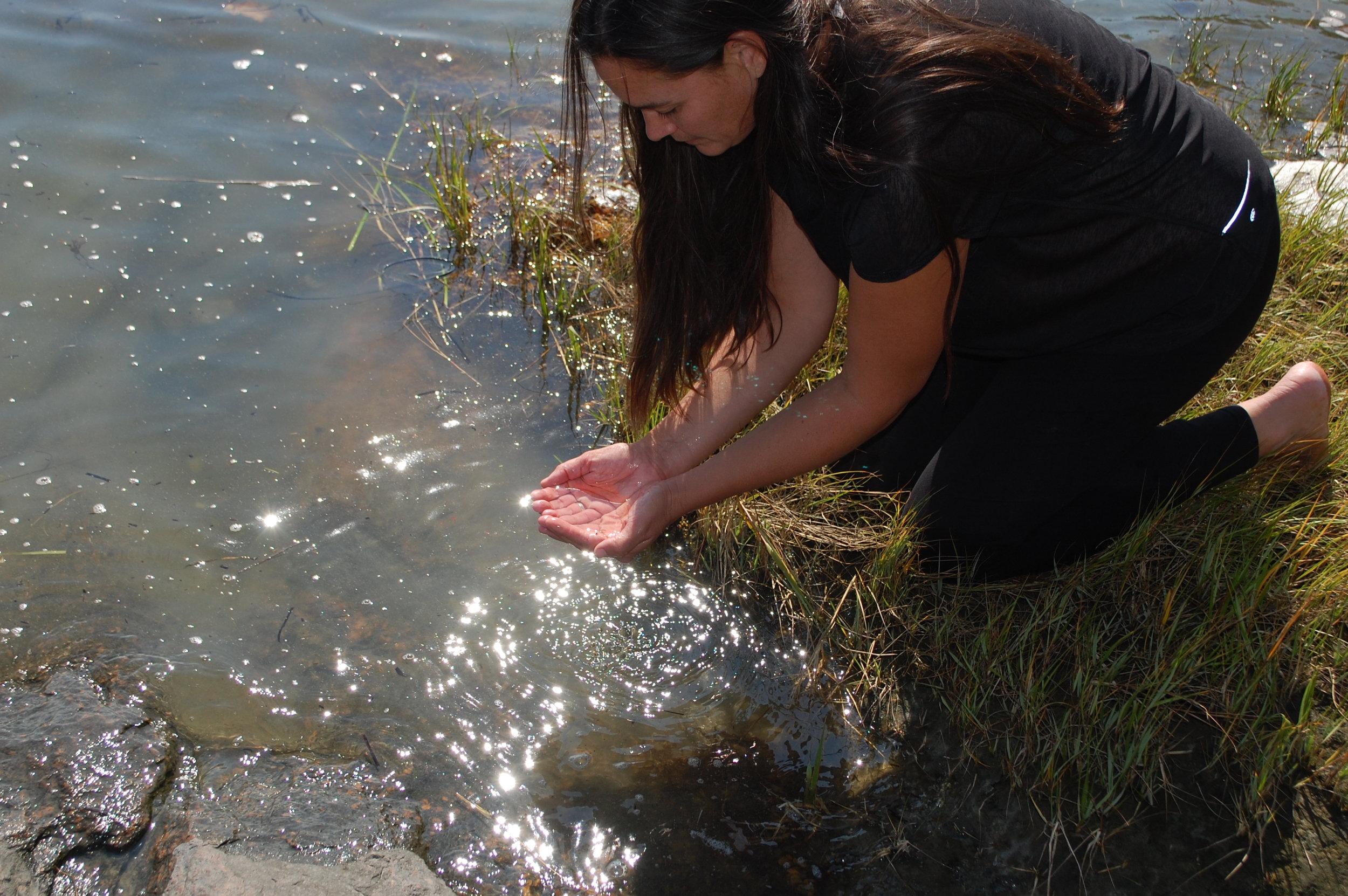 What is the "Earth Keepers Journey?"

We are a star....we have a destiny star that guides us in this lifetime. When things happen in our past our star gets clouded and its hard to see who we really are and we can't see our destiny star.
The Munay-Ki rites journey helps us to clear away the past, the emotional baggage, the fears, and unhealthy habits. We awaken to the star within us and begin to remember who we are....consciously creating our destiny...guided by our future rather than our past.
These are beautiful energetic transmissions that clear and upgrade the luminous energy field. These gifts come to us through Alberto Viloldo and the Q'ero Paqos of the High Mountains of Peru. We are living in a time of massive change for this planet, the earth is asking us to awaken, to become more conscious, and to grow new bodies that are made of more light.

These transmissions assist us in activating our DNA and upgrading our experience on this earth. Through these rites, and the energetic map that we have been given, we are more easily able to let go of the past and to create our lives from a place of who we wish to become, to create from a place of conscious actions rather than the programming of the past...

It is through this process that we learn to navigate our lives, choosing our sweetest destiny.
 
For Who?
This weekend is open to anyone who wishes to join whether this is your first time receiving the Munay-ki rites (initiations) or whether you have received them before. Each time you receive them they go to a deeper place of integration and understanding.
If you have never received these rites you are welcome to join us.
If you have received the Munay-Ki Initiations and wish to learn, practice, and deepen your understanding of these energies and to be able to and practice gifting these rites to others then you are welcome to join.
You do not need to want to be a shamanic practitioner to receive these rites. These are energies that help you to let go of the past and anchor into your sweetest destiny, whether you are a yoga teacher, massage therapist, florist, cashier, or anything. These are for anyone who is interested or feels called.


If you have any questions please contact Jaclyn Ouillette.Jaclyn@gmail.com

Location:
Meadow Wind
100 Gray Road,
Falmouth, Maine

**These are offered during the daytime, this is not an overnight retreat. For assistance finding lodging in the area please email ouillette.jaclyn@gmail.com
We will plan on being indoors, with some outdoor activities if the weather is somewhat nice. (Sometimes a gentle rain is nice and cleansing)
Your Inner Light, Your Inner Star Fire
You will be responsible for breakfast, lunches, and dinners. We will provide light snacks.

Schedule:

Friday, 6pm-9pm

Saturday, 9am-6pm

Sunday, 9am-1pm
(Times are slightly dependent on the size of the group)

The Munay-Ki rites brings you on a healing journey. They guide you in a spiral of deepening your connections.
We are a star....we have a destiny star that guides us in this lifetime. When things happen in our past our star gets clouded and its hard to see who we really are and we can't see our destiny star. The Munay-Ki rites journey helps us to clear away the past, the emotional baggage, the fears, and unhealthy habits. We awaken to the star within us and begin to remember who we are....consciously creating our destiny...guided by our future rather than our past.


Who is this Journey For?
You are in search of true Deep Personal Healing
You desire a deeper Connection with Nature, Earth, the elements, The Stars & Spirit
You want to join a small group of Supportive Earthy-Spiritual people
You are looking for a healing journey to assist you in your Spiritual Awakening,
You want to Expand your Consciousness
You want to Re-inform your DNA
You truly want to Blossom, to Flourish
You desire To BE who you came here to be
You want to be the Conscious Creator of your own life
Registration
$225 by February 1
$325 February 2-6
$400 February 7 or later
 
A Journey of Remembering & Activating. A journey back to your Inner Star Essence.

We begin by setting a Strong Foundation

*The Initiation ~ The healers rites initiates you onto the healing journey, as you step into the medicine way. The healers rites awakens the healing power of your hands. You are connected to the lineage of all healers who come to you in your dream time and are available to you when you ask


*The Elements ~ The "Bands of Power" are represented by the 5 elements Earth, Water, Fire, Wind, and Spirit. These are woven into your luminous energy field. They assist you in processing energies around you and turning them into the elements. These bands help you to connect deeply with the Earth & the Elements.


*Clearing your Chakras, opening your Spiritual Eyes ~ the "Harmony Rites" You will be connected with 7 archetypal energies. These energies begin a healing and clearing process to clear out any stagnant energy. As our chakras become clearer, our lives flow with more ease & grace. You will learn to embody each of the animal archetypes to assist you in perceiving and understanding the world around you differently.


*Sensing Energy ~ The "Seer's Rites" opens your ability to see and sense energy, to see the unseen world, to perceive the invisible. You begin to see the world of Spirit. We will explore what "seeing" energy means for you.
Gifted Through an Ancient Lineage

Higher Shamanic Rites of the Archangel Vibration

*Day Keeper's Rites
This rite connects you with the lineage of Day Keepers and awakens your Inner Feminine. The Day Keepers were the ones who sang the sun up in the morning and down in the evening. They kept the rhythms and cycles of the Earth as alter keepers, the herbalist, and mid-wives. This rite connects you with your own personal healing ways as Day Keeper and a steward for your local community.


*Wisdom Keeper's Rites
This rite connects you with the Wisdom that resides at the peaks of the high mountains and awakens your Inner Masculine. When you receive this rite you have access to your own wisdom, you can go to Spirit directly for answers and no longer have to go through others. You take your seat at the fire with the medicine men and medicine woman.


*Earth Keeper's Rites
This rites connects you with the Earth Keepers as you become a steward for the whole Earth. You are lifted high to fly with the Eagles and Condors, to have a higher perspective of the world. You begin to share your Journey, and your Wisdom with others in ways that are easy for others to understand.



*Star Keepers Rites
This rite connects you to the archangels that are guardians of our galaxy, stewards of all life on Earth. This rite connects you to the stars, and to the sun, our local star. It helps you to learn the ways of the seer and to begin to dream the world into being. We connect with the time to come and you are anchored into the time beyond the great shift.



*Creator's Rites
This rite awakens the Creator-light within and brings forth a sense of stewardship for all creation, from the smallest grain of sand to the largest cluster of galaxies in the universe. Become the creator of your own destiny. This rite was once attained only through direct transmission from Spirit, but now it is now possible to transmit from one person to another.



Summary of the Journey of the Rites:
Receive 9 Shamanic Rites of Initiation over the weekend
Practice gifting all 9 Shamanic Rites (and receive them again and again to deepen them)
Ceremony & Rituals to assist you in integrating the Rites
Guided Journeys to connect with each of the 9 energies, your guides, and strengthening the luminous threads
Crystal singing bowl sound journeys
Healing and clearing ceremonies and rituals to assist the journey
Ancient Breathing Techniques practice to build your Inner Star Fire
Learn about and work with your Luminous Energy Field
Receive a Pi Stone
Join a Supportive Community
You will be able to give these rites to your family, friends, and clients once you complete the weekend (it is not necessary to do so, but you will be empowered and able to gift these beautiful gifts to others)
Space is limited so secure your spot today! For for more information please email Jaclyn
Ouillette.Jaclyn@gmail.com or Call 207-319-4116

What my clients are saying ~

Leah learned to see and sense beyond the physical senses and how to connect with spirit in the past, present, and future.

"I found the journey to be a good challenge as well as a validation for my growth. I found myself thinking creatively and expanding my thoughts and vision in ways that allowed for an incredible amount of personal, spiritual, physical, and emotional growth. The impact was profound and life affirming.
One of my favorite things: It was very cool to see myself in the future...way into the future. That was powerful and very satisfying.
Also I really loved being outdoors (the secret lake, trees, and sunshine) and in nature. Our indoor group sessions were awesome too and needed due to weather & learning at times. Taking the journey with the 'leader' trees on Old Turtle's property was amazing and transformative!
It was all good and whether we were on the mountain or secret lake or Ray's property or in Falmouth it was powerful and moving. Crystal bowls were especially welcomed.
I learned to trust myself more and it really validated how I work with my guides. I learned to see and sense beyond the physical senses and how to connect with spirit in the past, present, and future. I learned to think beyond limitations and explore. I learned the power of hummingbird and the importance of JOY. I learned to be lighter and more free. "

-Leah Mason, Brownfield, Maine
Women's Journey of the Rites Fall 2012



Sigrid is Powerful, Free, and Flying!

"Thank you, thank you, thank you. Your Munay-Ki has rapidly transformed me. I am very powerful, free and flying. Our time together is extremely special. I love the lake we swam in with the rocks and the beach. You have taught me very well how to be a leader and I am now leading."

Sigrid Brown, Syracuse, New York
(Maine Munay-Ki Private Wilderness Intensive)



Please email Jaclyn to set up a time to see if this journey is right for you

Ouillette.Jaclyn@gmail.com



More About the Rites:

This is ancient wisdom, this is the medicine of the Q'ero Shamans and descendants of the Inka lineage from the high mountains of Peru...these are ancient healing energies that have been gifted through the lineage for thousands and thousands of years, held untouched in the Mountains awaiting for the time of the prophecy to bring these rites to us in the Western world.
Jaclyn has received these initiation rites from many high shamans including Don Fransisco Chura Flores, an Elder Paqo (Shaman) from the Mountains of Peru, through her shamanic training with Alberto Villoldo's Four Winds' Society Healing the Light Body School and on her recent Journey to Peru in 2012 where she received the rites in Sacred Sites from Paqo Don Martin Pinedo, and where she also participated in Ceremony and studied the Rites on an Advanced Shamanic Initiations Journey with Shamans from around the world.
Shamanic Guide & Teacher.
Certified Practitioner of Shamanic Energy Medicine by the Four Winds Society. Munay-Ki Teacher & Mentor, Full Mesa Carrier, Initiated by Q'ero Elders into the Ancient Inka Lineage of Earthkeepers & Lightbody Healers.

Jaclyn has been leading healing wilderness journeys since 2004 and teaching and gifting the Munay-Ki rites since 2009. She brings you on journey to not only receive the rites, but to connect deeply with the energy through journey and applying this Wisdom to your everyday life. You will learn healing rituals that you can do at home and learn how to integrate these rites into your life so you can become the Conscious Creator of your Destiny.

Email Jaclyn for more information: Ouillette.Jaclyn@gmail.com